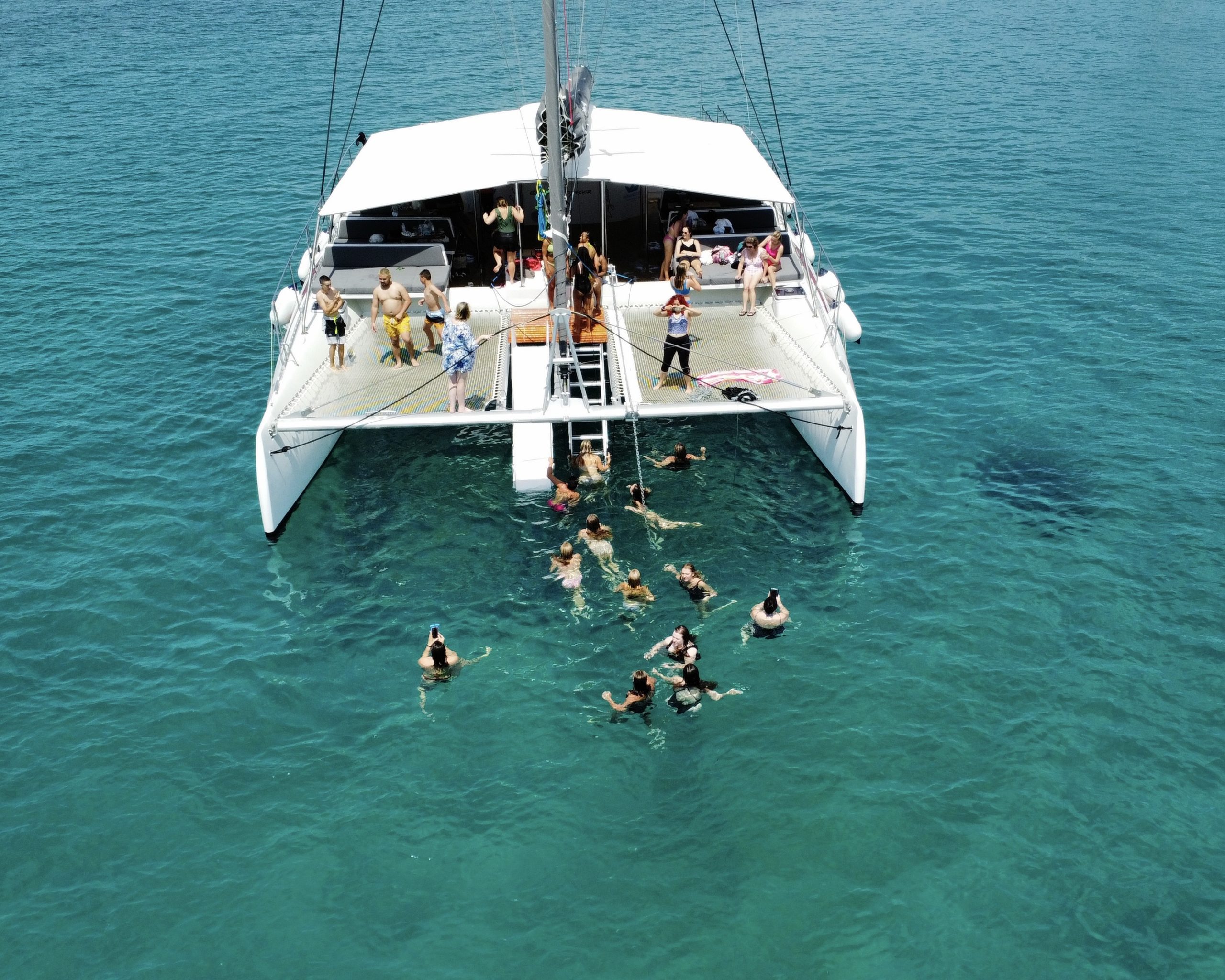 Three islands daily cruise
A full-day cruise to three of the most famous islands of the Saronic Gulf just a stone's throw from Athens.
Agkistri: the greenest island with the most beautiful crystal waters is waiting for you to discover it.
Metopi: feel the Greek summer in fifty shades of blue with water games.
Aegina: the island of the temple of Aphaia.
Enjoy the Greek flavors "onboard"
Traditional dishes and authentic local flavors from the highest quality ingredients and all cooked in Greek pure virgin olive oil.
A great way to spend your day!!
Included
Welcome drinks and breakfast (coffee, juice, water, cake)

A tasty snack will be offered one hour after the departure.

A delicious traditional Greek menu will be served

Unlimited beer, wine and soft drinks will be provided.

Fresh fruits will be served during the return.
Amenities
Free WiFi on board.

Snorkeling gear.
Not Included
Hotel pick up (can be provided on request on an extra cost of 15€ p.p.)
*Catamaran boat : L.: 19.5m – W.: 10.5m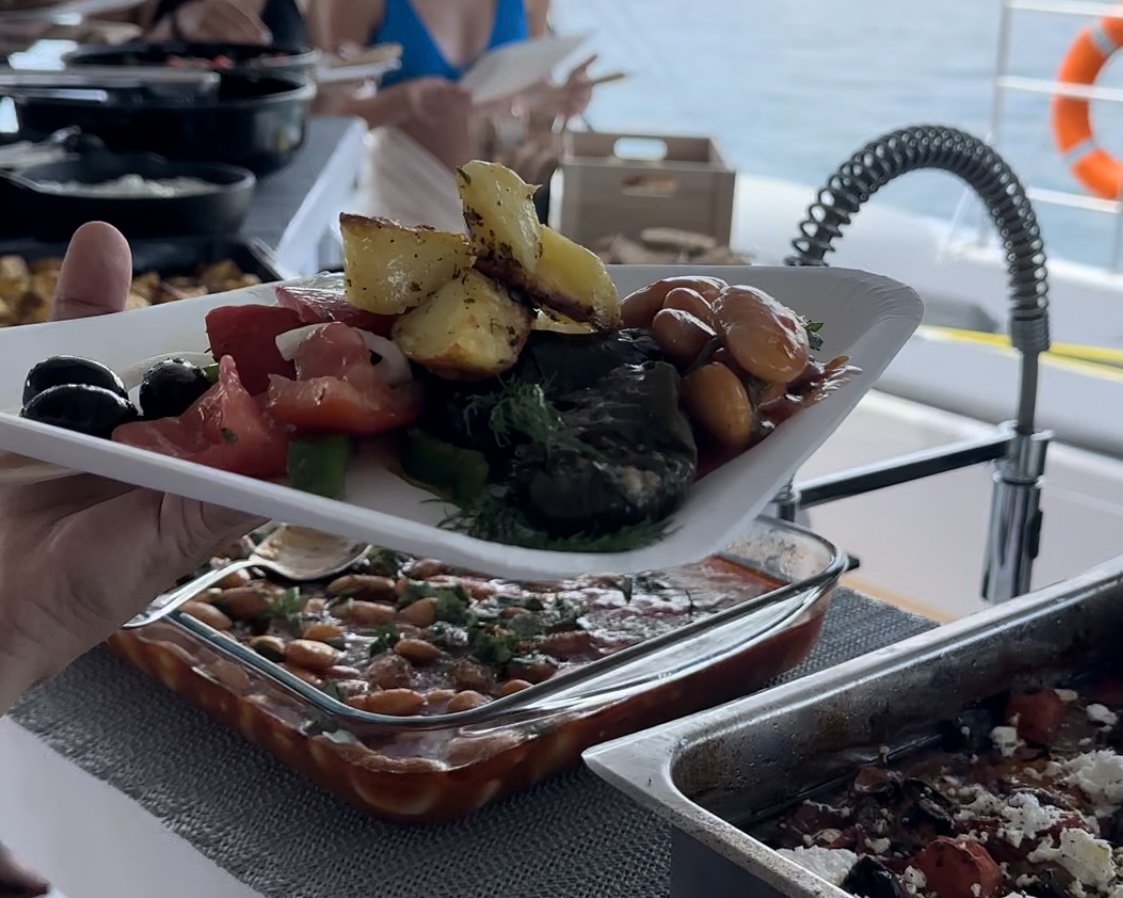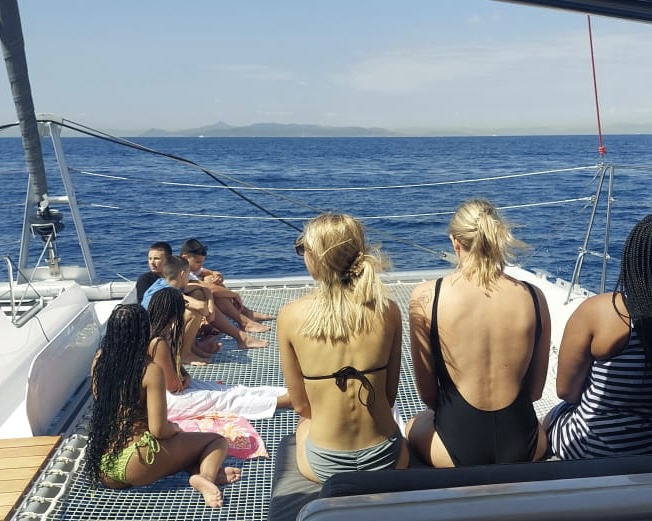 Daily schedule
– 10:00 – Departure Marina Alimos
        |
– 12:00 – Arrival to Agkistri island
       |
– 13:15 – Departure from Agkistri island
        |
– 13:30 – Arrival to Metopi island
        |
– 15:00 – Departure from Metopi island
        |
– 15:30 – Arrival to Aegina island
        |
– 17:00 – Departure from Aegina island
        |
– 19:00 – Arrival to Marina Alimos
Daily departures : 10:00 – 19:00
1. What means of payment are accepted?
We accept all means of payment (cash, card, bank deposit).
2. Can I book a cruise in a different way?
You can call on WhatsApp, on +30 6940508253
3. Do children pay for a ticket?
Children up to 5 years old are free. From 5 to 13 years old they pay half the price (check booking page). From 13 to 18 years old they pay a reduced price (check booking page).
4. Is travel insurance included in the price?
Travel insurance is not included in the price.
5. What is the cancellation policy of your company?
For a full refund, you have to cancel 24 hours before the scheduled departure. In case of bad weather conditions, we can arrange a new date or a full refund.
6. Can I rent your boat for some special occasion?
Of course! You can rent our boat for whatever occasion meets your needs. Send your request to info@onboardcruise.com or contact us on +30 6940508253.
7. What clothing should I wear?
Wear comfortable clothes and a jacket if needed. Don't forget to bring a towel, a swimsuit, a hat, sunscreen and comfortable shoes.
8. Do you offer any special menus?
Our menu features traditional Greek cuisine and there's also a vegetarian menu. If you are allergic to something, please notify us by e-mail on info@onboardcruise.com 48 hours prior to departure.